Irv Lee – Higherplane Aviation Training ltd
Mentoring the Private Pilot flying in the UK, EASA/NPPL Testing, Renewals & Validations, PPL Masterclasses, Radio Training & Testing, South African Vacation & Licensing advice, Consultancy and much more besides . . . . .
---
DVD and Video Clips
VFR Around the LTMA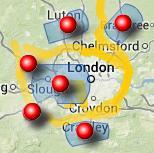 A NATS (National Air Traffic Services) production, allowing pilots unfamiliar with the London area to watch short clips of piloting around London without infringing controlled airspace. Each clip contains a short briefing from me and Jonathan Penny on the things to look out for en-route - then we fly the route so you can see it in high quality video, hear the R/t, the cockpit chat between us, and see how it looks before you fly it for yourself. To view each clip, simply go to VFR Around the LTMA to give you a map, and you simply double-click on any part of the yellow 'band' around London to view the clip lasting a few minutes for that part of the 'flying tour' - or you can choose a route from the pull-down menu.



Rust Remover for Pilots


A promotional (60 second) clip from the "Rust Remover for Pilots" DVD ("for sale in all good pilots' shops" - but why not use the discount code at the bottom of this screen?). This product has been remarkably successful in bringing pilots back into flying quicker after even reasonably short layoffs - a real money saver in terms of flying time to 'derust', and a great safety enhancer for the hobby fixed wing pilot.




Advert: EASA licence or National Licence, the pre flying tips are the same, and lots of confusions are sorted out with a Pre Preflight Checklist, the ideal safety addition to your flight bag. It's a useful inexpensive safety present from those who never know what to get you. Get them to click on the link or the tag on the left for details and purchase. Orders usually delivered in under 2 working days.