Irv Lee – Higherplane Aviation Training ltd
Mentoring the Private Pilot flying in the UK, EASA/NPPL Testing, Renewals & Validations, PPL Masterclasses, Radio Training & Testing, South African Vacation & Licensing advice, Consultancy and much more besides . . . . .
---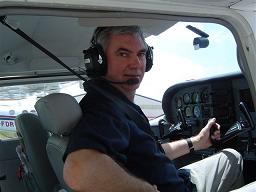 Irv Lee –Personal Profile:
Originally from Yorkshire, now resident in Old Portsmouth after many years in Romsey, Hampshire, UK. Educated Leeds Grammar School and Bristol University (B.Sc.(Hons) in Aeronautical Engineering). There was an initial career of a quarter of a century in the I.T. world with IBM UK and IBM France, including European application development, world wide technical education, I.T. new generation cutover management, and six years as an IBM Corporate Auditor (Business Use of I.T.). After a 10 year dual career of I.T. when aviation was 'part time', this Millenium started with an 100% cutover to Flying Instruction, Examinations & Pilot Flight Tests, with radio training and radio licence testing too.
Writing articles for aviation magazines (publications in the aviation press in both the UK and South Africa total many hundred of articles since the late 1990s), writing and hosting the unique and popular all day PPL Masterclass Seminars, and supporting CAA, NATS and GASCo safety initiatives also fills a lot of time. Awarded the national Safety Award by AOPA(UK) in 2008.
Currently a flight instructor / examiner / radio examiner. Since the 2007-08 academic year, visiting lecturer for Meteorology at Brunel University, Middlesex, writing and presenting a module for their M.Sc/M.Eng., also used as an option on their aeronautical engineering first degree.
Personal Licences / Ratings

PPL (A) Channel Islands Aero Club (Jersey) as a CCF cadet on an RAF Flying Scholarship.

PPL (A) RAF Day VFR qualification in De Havilland Chipmunks, Bristol UAS, RAF Filton.

Night Rating (Southampton), Multi Rating (Bournemouth), IMC Rating (Bournemouth).

Basic Commercial Pilot Licence 1992 (Bournemouth), Assistant Flying Instructor (AFI) 1993 (Chichester Goodwood), Qualified Flying Instructor (QFI) Upgrade 1995 (Compton Abbas). Full Commercial Licence (CPL) 1996 (UK), JAA/EASA PPL/IMC Flight Examiner 2003 (Bournemouth). EASA Commercial licence also held to enable instructing or testing in the EU.

Validations and Renewals: Flight Examiner for NPPL, SSEA, SEP and IMC (IR(Restricted)

FRTOL (Radio) Examiner 2004 for VHF and HF
Advert: EASA licence or National Licence, the pre flying tips are the same, and lots of confusions are sorted out with a Pre Preflight Checklist, the ideal safety addition to your flight bag. It's a useful inexpensive safety present from those who never know what to get you. Get them to click on the link or the tag on the left for details and purchase. Orders usually delivered in under 2 working days.